About Us
Fortune Express is a Chinese takeaway in London. Why don't you try our San Bei Chicken or Seasonal Mix Vegetable & Garlic (Shi Cai)?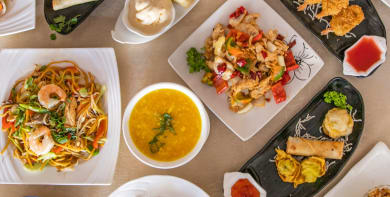 Reviews
145 reviews
Philip
"Excellent."
09/04/2021
Benjamin
"Food was lovely, I wish there was more mock duck in the mock duck with black bean sauce dish but food was delicious!"
12/03/2021
Zaina
"The food was really delicious and extra hot thank you so much! I was waiting for the food and just eat sent me a msg that the restaurant was busy that's why it was a little late."
27/01/2021
Helen
"Lovely food and generous portions - thank you!"
11/01/2021
Menu
Plain Rice Noodle Regular
£3.65
Roast Pork Rice Noodle Regular
£4.65
Roast Pork Rice Noodle Large
£5.65
Chicken Rice Noodle Regular
£4.65
Chicken Rice Noodle - Large
£5.65
Chicken Rice Noodle Large
£5.65
Roast Duck Rice Noodle Regular
£5.95
Roast Duck Rice Noodle Large
£6.95
Mix Meat Rice Noodle Regular
£5.95
Mix Meat Rice Noodle Large
£6.95
Mushroom Rice Noodle Regular
£4.45
Mushroom Rice Noodle Large
£5.45
Seasonal Veggie Rice Noodle Regular
£4.45
Seasonal Veggie Rice Noodle Large
£5.45
Wonton Soup
Minced pork dumplings cooked with superior broth
£4.95
Chicken Sweet Corn Egg Soup
£4.75
Hot & Sour Soup
Cooked with pork, chicken, shrimp, bamboo shoot & tofu
£5.25
Tom Yum Hot Seafood Soup
Cooked with prawn, scallop, squid, mushroom & lemongrass
£6.95
Tofu & Seasonal Vegetable Soup
£4.95
Jade - Bottle
Vodka, midori, malibu, pineapple juice
£7.95
Raspberry Cosmopolitan - Bottle
Raspberry vodka, raspberry liquor, lime juice, cranberry juice
£7.95
Smiling Buddha - Bottle
Vodka, lychee liquor, grenadine, lychee juice
£7.95
Japanese Slipper - Bottle
Midori, triple sec, sugar syrup, lemon juice
£7.95
Sex on the Beach - Bottle
Vodka, archers, orange juice, cranberry juice
£7.95
Sea Breeze - Bottle
Vodka, cranberry juice
£7.95
Amaretto Sour - Bottle
Amaretto, sugar, lemon juice
£7.95
Long Island Beach Tea - Bottle
Vodka, rum, gin, tequila, Cointreau, cranberry juice
£7.95
Tequila Sunrise - Bottle
Tequila, orange, grenadine
£7.95
Negroni - Bottle
Camparia, Martini Rosso, gin
£7.95
Sweet & Sour in Hong Kong Style (Gu Lu) Chicken
Light battered & cooked with pineapple, onion & capsicum
£7.45
Sweet & Sour in Hong Kong Style (Gu Lu) King Prawn
Light battered & cooked with pineapple, onion & capsicum
£8.95
Sweet & Sour in Hong Kong Style (Gu Lu) Pork
Light battered & cooked with pineapple, onion & capsicum
£7.45
Black Bean & Chilli (Shi Jiao) Chicken
Cooked with garlic, onion, capsicum & fresh chilli
£7.45
Black Bean & Chilli (Shi Jiao) King Prawn
Cooked with garlic, onion, capsicum & fresh chilli
£8.95
Black Bean & Chilli (Shi Jiao) Pork
Cooked with garlic, onion, capsicum & fresh chilli
£7.45
Black Bean & Chilli (Shi Jiao) Duck
Cooked with garlic, onion, capsicum & fresh chilli
£9.25
Black Bean & Chilli (Shi Jiao) Squid
Cooked with garlic, onion, capsicum & fresh chilli
£8.95
Black Bean & Chilli (Shi Jiao) Beef
Cooked with garlic, onion, capsicum & fresh chilli
£8.45
Black Bean & Chilli (Shi Jiao) Lamb
Cooked with garlic, onion, capsicum & fresh chilli
£8.95
Black Bean & Chilli (Shi Jiao) Scallop
Cooked with garlic, onion, capsicum & fresh chilli
£10.25
Black Bean & Chilli (Shi Jiao) Mixed Seafood
Cooked with garlic, onion, capsicum & fresh chilli
£10.85
Ginger & Spring Onion (Jiang Cong) Chicken
£7.45
Ginger & Spring Onion (Jiang Cong) King Prawn
£8.95
Ginger & Spring Onion (Jiang Cong) Pork
£7.45
Ginger & Spring Onion (Jiang Cong) Duck
£9.25
Ginger & Spring Onion (Jiang Cong) Squid
£8.95
Ginger & Spring Onion (Jiang Cong) Beef
£8.45
Ginger & Spring Onion (Jiang Cong) Lamb
£8.95
Ginger & Spring Onion (Jiang Cong) Scallop
£10.25
Ginger & Spring Onion (Jiang Cong) Mixed Seafood
£10.85
Ginger & Spring Onion (Jiang Cong) Green Mussel
£10.85
Satay Sauce in Malaysian Style (Sha Dia) Chicken
£7.45
Satay Sauce in Malaysian Style (Sha Dia) King Prawn
£8.95
Satay Sauce in Malaysian Style (Sha Dia) Pork
£7.45
Satay Sauce in Malaysian Style (Sha Dia) Duck
£9.25
Satay Sauce in Malaysian Style (Sha Dia) Squid
£8.95
Satay Sauce in Malaysian Style (Sha Dia) Beef
£8.45
Satay Sauce in Malaysian Style (Sha Dia) Lamb
£8.95
Satay Sauce in Malaysian Style (Sha Dia) Scallop
£10.25
Satay Sauce in Malaysian Style (Sha Dia) Mixed Seafood
£10.85
Satay Sauce in Malaysian Style (Sha Dia) Green Mussel
£10.85
Seasonal Veggie in Oyster Sauce (Hao You) Chicken
£7.45
Seasonal Veggie in Oyster Sauce (Hao You) King Prawn
£8.95
Seasonal Veggie in Oyster Sauce (Hao You) Pork
£7.45
Seasonal Veggie in Oyster Sauce (Hao You) Duck
£9.25
Seasonal Veggie in Oyster Sauce (Hao You) Squid
£8.95
Seasonal Veggie in Oyster Sauce (Hao You) Beef
£8.45
Seasonal Veggie in Oyster Sauce (Hao You) Lamb
£8.95
Seasonal Veggie in Oyster Sauce (Hao You) Scallop
£10.25
Seasonal Veggie in Oyster Sauce (Hao You) Mixed Seafood
£10.25
Seasonal Mix Vegetable & Garlic (Shi Cai) Chicken
£7.45
Seasonal Mix Vegetable & Garlic (Shi Cai) King Prawn
£8.95
Seasonal Mix Vegetable & Garlic (Shi Cai) Pork
£7.45
Seasonal Mix Vegetable & Garlic (Shi Cai) Duck
£9.25
Seasonal Mix Vegetable & Garlic (Shi Cai) Squid
£8.95
Seasonal Mix Vegetable & Garlic (Shi Cai) Beef
£8.45
Seasonal Mix Vegetable & Garlic (Shi Cai) Lamb
£8.95
Seasonal Mix Vegetable & Garlic (Shi Cai) Scallop
£10.25
Seasonal Mix Vegetable & Garlic (Shi Cai) Mixed Seafood
£10.85
Black Pepper Sauce (Hei Jiao) Chicken
Cooked with lots of onion & capsicum
£7.45
Black Pepper Sauce (Hei Jiao) King Prawn
Cooked with lots of onion & capsicum
£8.95
Black Pepper Sauce (Hei Jiao) Pork
Cooked with lots of onion & capsicum
£7.45
Black Pepper Sauce (Hei Jiao) Duck
Cooked with lots of onion & capsicum
£9.25
Black Pepper Sauce (Hei Jiao) Squid
Cooked with lots of onion & capsicum
£8.95
Black Pepper Sauce (Hei Jiao) Beef
Cooked with lots of onion & capsicum
£8.45
Black Pepper Sauce (Hei Jiao) Lamb
Cooked with lots of onion & capsicum
£8.95
Black Pepper Sauce (Hei Jiao) Scallop
Cooked with lots of onion & capsicum
£10.25
Black Pepper Sauce (Hei Jiao) Mixed Seafood
Cooked with lots of onion & capsicum
£10.85
Bamboo Shoot & Chinese Mushroom (Xiang Dong) Chicken
£7.45
Bamboo Shoot & Chinese Mushroom (Xiang Dong) King Prawn
£8.95
Bamboo Shoot & Chinese Mushroom (Xiang Dong) Pork
£7.45
Bamboo Shoot & Chinese Mushroom (Xiang Dong) Duck
£9.25
Bamboo Shoot & Chinese Mushroom (Xiang Dong) Squid
£8.95
Bamboo Shoot & Chinese Mushroom (Xiang Dong) Beef
£8.45
Bamboo Shoot & Chinese Mushroom (Xiang Dong) Lamb
£8.95
Bamboo Shoot & Chinese Mushroom (Xiang Dong) Scallop
£10.25
Bamboo Shoot & Chinese Mushroom (Xiang Dong) Mixed Seafood
£10.85
Szechuan Spicy Sauce Chicken
Cooked with garlic, ginger, chilli, mix spice & shallot
£7.45
Szechuan Spicy Sauce King Prawn
Cooked with garlic, ginger, chilli, mix spice & shallot
£8.95
Szechuan Spicy Sauce Pork
Cooked with garlic, ginger, chilli, mix spice & shallot
£7.45
Szechuan Spicy Sauce Duck
Cooked with garlic, ginger, chilli, mix spice & shallot
£9.25
Szechuan Spicy Sauce Squid
Cooked with garlic, ginger, chilli, mix spice & shallot
£8.95
Szechuan Spicy Sauce Beef
Cooked with garlic, ginger, chilli, mix spice & shallot
£8.45
Szechuan Spicy Sauce Lamb
Cooked with garlic, ginger, chilli, mix spice & shallot
£8.95
Szechuan Spicy Sauce Scallop
Cooked with garlic, ginger, chilli, mix spice & shallot
£10.25
Szechuan Spicy Sauce Mixed Seafood
Cooked with garlic, ginger, chilli, mix spice & shallot
£10.85
Tao Pan Hot Sauce Chicken
Cooked with yellow bean, chilli & seasonal vegetables
£7.45
Tao Pan Hot Sauce King Prawn
Cooked with yellow bean, chilli & seasonal vegetables
£8.95
Tao Pan Hot Sauce Pork
Cooked with yellow bean, chilli & seasonal vegetables
£7.45
Tao Pan Hot Sauce Duck
Cooked with yellow bean, chilli & seasonal vegetables
£9.25
Tao Pan Hot Sauce Squid
Cooked with yellow bean, chilli & seasonal vegetables
£8.95
Tao Pan Hot Sauce Beef
Cooked with yellow bean, chilli & seasonal vegetables
£8.45
Tao Pan Hot Sauce Lamb
Cooked with yellow bean, chilli & seasonal vegetables
£8.95
Tao Pan Hot Sauce Scallop
Cooked with yellow bean, chilli & seasonal vegetables
£10.25
Tao Pan Hot Sauce Mixed Seafood
Cooked with yellow bean, chilli & seasonal vegetables
£10.85
Kung Po (Gong Bao) Chicken
Cooked with crispy peanut, chilli & seasonal vegetables
£8.95
Kung Po (Gong Bao) Beef
Cooked with crispy peanut, chilli & seasonal vegetables
£9.95
Kung Po (Gong Bao) Pork
Cooked with crispy peanut, chilli & seasonal vegetables
£8.95
Kung Po (Gong Bao) Duck
Cooked with crispy peanut, chilli & seasonal vegetables
£9.95
Kung Po (Gong Bao) King Prawn
Cooked with crispy peanut, chilli & seasonal vegetables
£9.95
Cashew Nut & Yellow Bean Sauce (Jiang Bao) Chicken
£8.95
Cashew Nut & Yellow Bean Sauce (Jiang Bao) Beef
£9.95
Cashew Nut & Yellow Bean Sauce (Jiang Bao) Pork
£8.95
Cashew Nut & Yellow Bean Sauce (Jiang Bao) Duck
£9.95
Cashew Nut & Yellow Bean Sauce (Jiang Bao) King Prawn
£9.95
Wild Mushroom Lovers Chicken
Cooked with garlic, ginger & soya sauce
£8.95
Wild Mushroom Lovers Beef
Cooked with garlic, ginger & soya sauce
£9.95
Wild Mushroom Lovers Pork
Cooked with garlic, ginger & soya sauce
£8.95
Wild Mushroom Lovers Duck
Cooked with garlic, ginger & soya sauce
£9.95
Wild Mushroom Lovers King Prawn
Cooked with garlic, ginger & soya sauce
£9.95
Cumin & Chilli (Zhi Ran) Chicken
Cooked with seasonal vegetables
£7.95
Cumin & Chilli (Zhi Ran) Beef
Cooked with seasonal vegetables
£8.95
Cumin & Chilli (Zhi Ran) Pork
Cooked with seasonal vegetables
£7.95
Cumin & Chilli (Zhi Ran) Lamb
Cooked with seasonal vegetables
£9.95
Korean Spicy BBQ Pork
Cooked with seasonal vegetables
£8.95
Lemon Chicken
Battered & served with citrus lemon dressing
£8.25
Katsu Chicken
Battered & served with homemade curry sauce
£8.25
Mango Duck
Battered & served with fresh mango in mango dressing
£10.95
Crispy Shredded Beef in Chilli
Cooked with onion, capsicum, chilli & coated with sesame seed
£8.25
Crispy Shredded Chicken in Chilli
Cooked with onion, capsicum, chilli & coated with sesame seed
£8.25
Fortune Yellow Curry Chicken
Cooked with Chinese mix herb, potato, tomato, chilli & curry paste
£7.45
Fortune Yellow Curry King Prawn
Cooked with Chinese mix herb, potato, tomato, chilli & curry paste
£8.95
Fortune Yellow Curry Pork
Cooked with Chinese mix herb, potato, tomato, chilli & curry paste
£7.45
Fortune Yellow Curry Duck
Cooked with Chinese mix herb, potato, tomato, chilli & curry paste
£9.25
Fortune Yellow Curry Squid
Cooked with Chinese mix herb, potato, tomato, chilli & curry paste
£8.95
Fortune Yellow Curry Beef
Cooked with Chinese mix herb, potato, tomato, chilli & curry paste
£8.45
Fortune Yellow Curry Lamb
Cooked with Chinese mix herb, potato, tomato, chilli & curry paste
£8.95
Fortune Yellow Curry Scallop
Cooked with Chinese mix herb, potato, tomato, chilli & curry paste
£10.25
Fortune Yellow Curry Mixed Seafood
Cooked with Chinese mix herb, potato, tomato, chilli & curry paste
£10.25
Thai Red Curry Chicken
Cooked with red curry paste, coconut milk, chilli & vegetables
£7.45
Thai Red Curry King Prawn
Cooked with red curry paste, coconut milk, chilli & vegetables
£8.95
Thai Red Curry Pork
Cooked with red curry paste, coconut milk, chilli & vegetables
£7.45
Thai Red Curry Duck
Cooked with red curry paste, coconut milk, chilli & vegetables
£9.25
Thai Red Curry Squid
Cooked with red curry paste, coconut milk, chilli & vegetables
£8.95
Thai Red Curry Beef
Cooked with red curry paste, coconut milk, chilli & vegetables
£8.45
Thai Red Curry Lamb
Cooked with red curry paste, coconut milk, chilli & vegetables
£8.95
Thai Red Curry Scallop
Cooked with red curry paste, coconut milk, chilli & vegetables
£10.25
Thai Red Curry Mixed Seafood
Cooked with red curry paste, coconut milk, chilli & vegetables
£10.25
Thai Green Curry Chicken
Cooked with green curry paste, coconut milk, chilli & vegetables
£7.45
Thai Green Curry King Prawn
Cooked with green curry paste, coconut milk, chilli & vegetables
£8.95
Thai Green Curry Pork
Cooked with green curry paste, coconut milk, chilli & vegetables
£7.45
Thai Green Curry Duck
Cooked with green curry paste, coconut milk, chilli & vegetables
£9.25
Thai Green Curry Squid
Cooked with green curry paste, coconut milk, chilli & vegetables
£8.95
Thai Green Curry Beef
Cooked with green curry paste, coconut milk, chilli & vegetables
£8.45
Thai Green Curry Lamb
Cooked with green curry paste, coconut milk, chilli & vegetables
£8.95
Thai Green Curry Scallop
Cooked with green curry paste, coconut milk, chilli & vegetables
£10.25
Thai Green Curry Mixed Seafood
Cooked with green curry paste, coconut milk, chilli & vegetables
£10.25
Crispy Chicken Ball Sweet & Sour Dip
Battered & served with dipping sauce
£7.95
Crispy Chicken Ball Curry Dip
Battered & served with dipping sauce
£7.95
Crispy Chicken Ball BBQ Dip
Battered & served with dipping sauce
£7.95
Crispy Chicken Ball Kung Po Dip
Battered & served with dipping sauce
£7.95
Crispy King Prawn Ball Sweet & Sour Dip
Battered & served with dipping sauce
£8.95
Crispy King Prawn Ball Curry Dip
Battered & served with dipping sauce
£8.95
Crispy King Prawn Ball BBQ Dip
Battered & served with dipping sauce
£8.95
Crispy King Prawn Ball Kung Po Dip
Battered & served with dipping sauce
£8.95
Omelette & Chips Chicken
Cooked with egg, peas & onion
£8.45
Omelette & Chips BBQ Pork
Cooked with egg, peas & onion
£8.45
Omelette & Chips King Prawn
Cooked with egg, peas & onion
£9.45
Omelette & Chips Mushroom
Cooked with egg, peas & onion
£8.25
Omelette & Chips Plain
Cooked with egg, peas & onion
£7.25
Black Bean & Chilli (Shi Jiao) Tofu
Cooked with garlic, onion, capsicum & fresh chilli
£7.95
Ginger & Spring Onion (Jiang Cong) Tofu
£7.95
Satay Sauce in Malaysian Style (Sha Dia) Tofu
£7.95
Seasonal Veggie in Oyster Sauce (Hao You) Tofu
£7.95
Seasonal Mix Vegetable & Garlic (Shi Cai) Tofu
£7.95
Black Pepper Sauce (Hei Jiao) Tofu
Cooked with lots of onion & capsicum
£7.95
Bamboo Shoot & Chinese Mushroom (Xiang Dong) Tofu
£7.95
Szechuan Spicy Sauce Tofu
Cooked with garlic, ginger, chilli, mix spice & shallot
£7.95
Tao Pan Hot Sauce Tofu
Cooked with yellow bean, chilli & seasonal vegetables
£7.95
Kung Po (Gong Bao) Tofu
Cooked with crispy peanut, chilli & seasonal vegetables
£7.65
Cashew Nut & Yellow Bean Sauce (Jiang Bao) Tofu
£8.65
Wild Mushroom Lovers Tofu
Cooked with garlic, ginger & soya sauce
£8.65
Cumin & Chilli (Zhi Ran) Tofu
Cooked with seasonal vegetables
£6.95
Fortune Yellow Curry Tofu
Cooked with Chinese mix herb, potato, tomato, chilli & curry paste
£7.95
Thai Red Curry Tofu
Cooked with red curry paste, coconut milk, chilli & vegetables
£7.95
Thai Green Curry Tofu
Cooked with green curry paste, coconut milk, chilli & vegetables
£7.95
Omelette & Chips Tofu
Cooked with egg, peas & onion
£6.95
Special Chow Mein (Yang Zhou Style) Regular
Cooked with egg, spring onion, onion, shrimp, pork & chicken
£7.85
Special Chow Mein (Yang Zhou Style) Large
Cooked with egg, spring onion, onion, shrimp, pork & chicken
£8.85
Crispy Egg Noodles Wild Mushroom
Cooked with seasonal vegetable in sauce
£9.45
Crispy Egg Noodles Pork
Cooked with seasonal vegetable in sauce
£10.85
Crispy Egg Noodles Chicken
Cooked with seasonal vegetable in sauce
£11.85
Crispy Egg Noodles Beef
Cooked with seasonal vegetable in sauce
£12.85
Crispy Egg Noodles Roast Duck
Cooked with seasonal vegetable in sauce
£13.85
Crispy Egg Noodles King Prawn
Cooked with seasonal vegetable in sauce
£13.85
Crispy Egg Noodles Mix Seafood
Cooked with seasonal vegetable in sauce
£14.85
Crispy Egg Noodles Mix Meat
Cooked with seasonal vegetable in sauce
£13.85
Fortune House Special Crispy Noodles
Cooked with king prawn, duck, chicken, beef & seasonal vegetable in sauce
£13.85
Singapore Rice Noodles (Hot) Regular
Cooked with egg, chilli, spring onion, onion, shrimp, roast pork & chicken in curry paste
£7.95
Singapore Rice Noodles (Hot) Large
Cooked with egg, chilli, spring onion, onion, shrimp, roast pork & chicken in curry paste
£8.95
Beef Ho Fun (Thick & Flat Soft Noodles)
Cooked with soya sauce, bean sprout & onion
£10.85
Ho Fun in Black Bean Sauce Wild Mushroom
Noodles made from rice
£9.95
Ho Fun in Black Bean Sauce Pork
Noodles made from rice
£10.85
Ho Fun in Black Bean Sauce Chicken
Noodles made from rice
£11.85
Ho Fun in Black Bean Sauce Beef
Noodles made from rice
£11.85
Ho Fun in Black Bean Sauce Roast Duck
Noodles made from rice
£13.85
Ho Fun in Black Bean Sauce King Prawn
Noodles made from rice
£13.85
Ho Fun in Black Bean Sauce Mix Seafood
Noodles made from rice
£14.85
Ho Fun in Black Bean Sauce Mix Meat
Noodles made from rice
£13.85
Beef Ho Fun in Satay Sauce
£12.85
Udon Noodles Wild Mushroom
£9.95
Beef Brisket Soup Noodles
£10.85
Korean Spicy Seafood Soup Udon Noodles
£12.85
Duck & Vegetables Soup Rice Noodles
£11.85
Duck & Vegetables Crispy Rice Noodles
£11.85
Dim Sum Mixed Platter
Har gow, beef siu mai, pork siu mai, chicken bun & char siu bun
£10.50
Prawn Har Gow Dumpling (6)
£5.95
Beef Siu Mai Dumpling (6)
£5.95
Chicken Siu Mai Dumpling (6)
£5.95
Pork Siu Mai Dumpling (6)
£5.95
BBQ Pork Char Siu Bun (2)
£4.95
Roast Duck Quarter Duck
Served with dipping sauce
£13.85
Roast Duck Half Duck
Served with dipping sauce
£24.95
Roast BBQ Pork (Char Siu)
Served with dipping sauce
£12.80
Crackling Crispy Pork Belly (Siu Yuk)
Served with dipping sauce
£14.85
Guo Bao Crispy Pork
Battered & cooked with sweet & sour sauce
£12.85
Hui Guo Pork
Double cooked with dry chilli, mix spice & vegetables
£10.85
Nong Jia Spicy Pork
Cooked with fresh chilli & vegetables
£10.85
Yu Xiang Pork
Cooked with black fungus, bamboo shoot & spring onion
£10.85
Szechuan Spicy Hot Chicken
Cooked with dry chilli, mix herb, mix spice & peanut
£12.85
San Bei Chicken
Braised with lemongrass, mint & vegetables
£12.85
Xiang La Crispy Beef
Cooked with dry chilli, mix spice & onion
£13.85
Beef & Broccoli
Cooked in oyster sauce
£13.85
Beef Brisket & Mooli
Braised with mix spice & mix herb in sauce
£13.85
Xiang La Lamb Ribs
Cooked with dry chilli, mix spice, mix herb & onion
£11.85
Tofu Stick Lamb Ribs
Braised with carrot, spring onion & mix herb
£12.85
Dan Huang King Prawn
Grilled & coated with duck egg yolk
£15.85
Fortune Mix Seafood & Cashew Nut
Cooked with scallops, king prawns, squid & vegetables
£14.85
Beef Steak in Black Pepper Sauce
£16.85
Beef Steak in Peking Sauce (Sweet & Tangy)
£16.85
Scallop "N" Broccoli
quick fried with garlic & ginger
£16.85
Fortune Mixed Platter for 2 (To share)
Spicy pork ribs, seaweed, prawn toast, chicken dumplings, veggie
spring roll & satay chicken on skewer
Served with sweet chilli dip
£13.90
Crispy Veggie Spring Roll (4)
Homemade & served with sweet chilli dip
£5.45
Crispy Chunky Pancake Roll Mixed Vegetable
Wrapped with fresh salad, bean sprout & onion
£5.25
Crispy Chunky Pancake Roll Roast Pork, Chicken & Shrimp
Wrapped with fresh salad, bean sprout & onion
£6.25
Crispy Chunky Pancake Roll King Prawn
Wrapped with fresh salad, bean sprout & onion
£6.65
Crispy Chunky Pancake Roll Chicken
Wrapped with fresh salad, bean sprout & onion
£5.95
Crispy Chunky Pancake Roll Roast Duck
Wrapped with fresh salad, bean sprout & onion
£6.95
Crispy Seaweed
Coated with delicate seasonings
£4.95
Tempura Lovers King Prawn
Light battered in Japanese style & served with dipping sauce
£9.95
Tempura Lovers Seasonal Vegetable
Light battered in Japanese style & served with dipping sauce
£7.95
Edamame
Boiled green soya bean with mix spice & herbs
£4.85
Pan Fried Dumplings (4) Pork
Served with dipping sauce
£5.75
Pan Fried Dumplings (4) Chicken
Served with dipping sauce
£5.75
Pan Fried Dumplings (4) Vegetables
Served with dipping sauce
£5.45
Chunky Sesame Prawn Toast
Served with sweet chilli dip
£6.95
Chicken Satay on Skewer (4)
Served with spicy peanut sauce
£6.85
Peppercorn Salt & Chilli Lovers Chicken
Light battered & cooked with garlic, onion, spring onion & fresh chilli
£6.95
Peppercorn Salt & Chilli Lovers Chicken Wings
Light battered & cooked with garlic, onion, spring onion & fresh chilli
£6.95
Peppercorn Salt & Chilli Lovers King Prawn
Light battered & cooked with garlic, onion, spring onion & fresh chilli
£7.95
Peppercorn Salt & Chilli Lovers Squid
Light battered & cooked with garlic, onion, spring onion & fresh chilli
£7.95
Peppercorn Salt & Chilli Lovers Soft Shell Crab
Light battered & cooked with garlic, onion, spring onion & fresh chilli
£8.95
Peppercorn Salt & Chilli Lovers Tofu
Light battered & cooked with garlic, onion, spring onion & fresh chilli
£6.95
Crispy Squid
Light battered & served with sweet chilli dip
£8.95
Pork Ribs Lover Peppercorn Salt & Chilli
£7.95
Pork Ribs Lover BBQ in Peking Sauce
£7.95
Pork Ribs Lover BBQ & Dry
£7.95
Spicy Lamb Ribs
Cooked with cumin seed, mixed spice & fresh chilli
£9.95
Plain Boiled Rice Regular
£3.50
Mushroom & Garlic Fried Rice Regular
£5.45
Mushroom & Garlic Fried Rice Large
£6.45
Mixed Veggie Fried Rice Regular
£5.45
Mixed Veggie Fried Rice Large
£6.45
Korean Kimchi Fried Rice (Mid Hot) Regular
£6.25
Korean Kimchi Fried Rice (Mid Hot) Large
£7.25
Beef & Lettuce Fried Rice Regular
£5.85
Beef & Lettuce Fried Rice Large
£6.85
Roast Pork Fried Rice Regular
£5.65
Roast Pork Fried Rice Large
£6.65
Chicken Fried Rice Regular
£5.65
King Prawn Fried Rice Regular
£6.85
King Prawn Fried Rice Large
£7.85
Special Fried Rice (Yang Zhou Style) Regular
Cooked with roast pork, chicken, shrimp, egg, peas & spring onion
£6.85
Special Fried Rice (Yang Zhou Style) Large
Cooked with roast pork, chicken, shrimp, egg, peas & spring onion
£7.95
Singapore Fried Rice (Hot) Regular
Cooked with roast pork, chicken, shrimp, egg, peas & spring onion
£6.95
Singapore Fried Rice (Hot) Large
Cooked with roast pork, chicken, shrimp, egg, peas & spring onion
£7.95
Fortune House Special Fried Rice Boiled Rice
Cooked with beef, chicken, duck, prawn & seasonal veggie in sauce
served with boiled or egg fried rice
£9.85
Fortune House Special Fried Rice Egg Fried Rice
Cooked with beef, chicken, duck, prawn & seasonal veggie in sauce
served with boiled or egg fried rice
£9.85
Mix Seafood Fried Rice
Cooked with prawn, squid, scallop, egg, peas, & spring onion
£12.85
Roast Duck on Boiled Rice
£11.85
Roast Pork on Boiled Rice
£10.85
Roast Duck & Pork on Boiled Rice
£12.85
Crackling Crispy Pork Belly on Rice
£12.85
Mix Seafood & Winter Melon Rice Soup
Served with boiled rice
£14.85
Korean Spicy Seafood Rice Soup
Served with boiled rice
£14.85
Beef Congee
Porridge made from rice
£9.85
Pork & Duck Egg Congee
Porridge made from rice
£10.85
Sweet & Sour in Hong Kong Style (Gu Lu) Meal
£9.95
Black Bean & Chilli (Shi Jiao) Meal
£9.95
Ginger & Spring Onion (Jiang Cong) Meal
£9.95
Seasonal Vegetable in Oyster Sauce Meal
£9.95
Seasonal Vegetable in Garlic Meal
£9.95
Black Pepper Sauce (Hei Jiao) Meal
£9.95
Tao Pan Hot Sauce (Hot Bean Paste)
£9.95
Bamboo Shoot & Chinese Mushroom(Xiang Dong) Meal
£9.95
Fortune Yellow Curry Meal
£9.95
Crispy & Aromatic Duck Quarter Duck
Served with fresh salad, pancake & hoisin sauce
£11.90
Crispy & Aromatic Duck Half Duck
Served with fresh salad, pancake & hoisin sauce
£21.90
Mongolian Crispy Lamb
Served with fresh lettuce & sweet chilli sauce
£10.75
Lettuce Wrap Duck
Finely chopped meat or seafood cooked with mixed salad vegetable
£9.75
Lettuce Wrap Chicken
Finely chopped meat or seafood cooked with mixed salad vegetable
£8.95
Lettuce Wrap Seasonal Mixed Vegetables (V)
Finely chopped meat or seafood cooked with mixed salad vegetable
£8.85
Crispy Mock Duck
Served with fresh salad, pancake & hoisin sauce
£11.95
Lettuce Wrap Seafood
Finely chopped meat or seafood cooked with mixed salad vegetable
£10.95
Bao Bun Wrap Roast Duck
Chinese Burger! soft bun wrapped with fresh salad & chef dressing
£8.75
Bao Bun Wrap Crispy Chicken
Chinese Burger! soft bun wrapped with fresh salad & chef dressing
£7.75
Bao Bun Wrap BBQ Pork (Char Siu)
Chinese Burger! soft bun wrapped with fresh salad & chef dressing
£7.75
Bao Bun Wrap Crispy Spicy Tofu (V)
Chinese Burger! soft bun wrapped with fresh salad & chef dressing
£7.75
Bao Bun Wrap Crispy Pork Belly
Chinese Burger! soft bun wrapped with fresh salad & chef dressing
£8.95
Bao Bun Wrap Five Spicy Beef
Chinese Burger! soft bun wrapped with fresh salad & chef dressing
£8.95
Steamed Scallop on Shell in Soya Sauce
With garlic, chilli & glass noodles
£4.85
Steamed Scallop on Shell in Black Bean Sauce
With garlic & chilli
£4.85
Steamed King Prawn on Shell in Soya Sauce
With garlic, chilli & glass noodles
£15.85
Steamed King Prawn on Shell in Black Bean Sauce
With garlic & chilli
£15.85
Whole Sea Bass in Light Soya Sauce
Steamed with ginger, spring onion
£19.85
Whole Sea Bass in Black Bean Sauce
Steamed will chilli, ginger, spring onion
£19.85
Whole Sea Bass with Sweet Chilli Sauce
Light battered & crispy
£19.85
Whole Sea Bass with Chilli & Vegetables
Braised with mix spice & mix herb
£19.85
Whole Sea Bass (Mild Spicy)
Braised with minced pork, b/shoot, c/mushroom
£19.85
Whole Lobster with Ginger & Spring Onion
£56.00
Whole Lobster with Chilli & Black Bean Sauce
£56.00
Whole Lobster with Fortune Yellow Curry
£56.00
Whole Lobster with Peppercorn Salt & Chilli
Light battered
£56.00
Whole Lobster with Dry Chilli & Vegetables
Cooked with mix spice & mix herb
£56.00
Whole Crab with Oriental Yellow Curry
£18.85
Whole Crab with Ginger & Spring Onion
£18.85
Whole Crab with Dry Chilli & Vegetables
Cooked with mix spice & mix herb
£18.85
Whole Crab with Peppercorn Salt & Chilli
Light battered
£18.85
Whole Crab with Chilli & Black Bean Sauce
£18.85
Tofu with Seasonal Vegetables
£7.95
Fried Bamboo Shoot & Chinese Mushroom
£7.95
Fried Aubergine, Potato & Capsicum
£8.95
Fried Crisp Sweetcorn with Pine Nuts
£8.25
Fried Seasonal Vegetable with Cashew Nut
£9.95
Fried Mock Duck in Black Bean & Chilli
£9.25
Fried Mock Duck in Black Bean & Chilli
£9.25
Mock Duck in Hot Tao Peng Sauce
£9.25
Fried Mock Fish in Vegan Oyster Sauce
£9.95
Mock Chicken Thai Green Curry
£8.95
Mock Duck in Fortune Yellow Curry
£8.95
Potato & Mushroom Fortune Yellow Curry
£8.95
Fortune Iced Tea - Bottle
£3.75
Fortune Iced Coffee - Bottle
£4.35
Plain Soft Egg Noodles Regular
£4.85
Plain Soft Egg Noodles Large
£5.85
Roast Pork Soft Egg Noodles Regular
£5.85
Roast Pork Soft Egg Noodles Large
£6.85
Chicken Soft Egg Noodles Regular
£5.85
Chicken Soft Egg Noodles Large
£6.85
Beef Soft Egg Noodles Regular
£6.85
Beef Soft Egg Noodles Large
£7.85
Roast Duck Soft Egg Noodles Regular
£7.95
Roast Duck Soft Egg Noodles Large
£8.95
King Prawn Soft Egg Noodles Regular
£7.85
King Prawn Soft Egg Noodles Large
£8.85
Lamb Soft Egg Noodles Regular
£7.95
Lamb Soft Egg Noodles Large
£8.95
Mix Meat Soft Egg Noodles Regular
£6.95
Mix Meat Soft Egg Noodles Large
£7.95
Mushroom Soft Egg Noodles Regular
£5.85
Mushroom Soft Egg Noodles Large
£6.85
Seasonal Veggie Soft Egg Noodles Regular
£6.85
Seasonal Veggie Soft Egg Noodles Large
£7.85
Côtes du Rhône Red Wine - Bottle
12.50%
75cl
France
£13.95
Sauvignon Blanc White Wine - Bottle
12%
75cl
France
£13.95
Pinot Grigio Rose Wine - Bottle
12%
75cl
Italy
£13.95
Garlic & Vegan Oyster Sauce Broccoli
£7.85
Vegan Oyster Sauce Pak Choi
£8.85
Garlic & Chilli French Fine Bean
£10.85
Garlic Mix Seasonal Vegetables
£7.85
Garlic & Chilli Morning Glory
£11.80
Dirty Lemon - Bottle
Lemon juice, soda, lime & mint
£5.95
Sunset - Bottle
Orange, kiwa, lychee, mango & pineapple juice
£5.95
Contact Us
Find Us
6 Dartmouth Park Hill, London, NW51HL
We deliver to
N1, N10, N15, N16, N17, N19, N1C, N2, N22, N4, N5, N6, N7, N8, NW1, NW2, NW3, NW5, NW6, NW8, W1B, W1G, W1H, W1T, W1U, W1W, W9